Inviting all creatives, dreamers and change-makers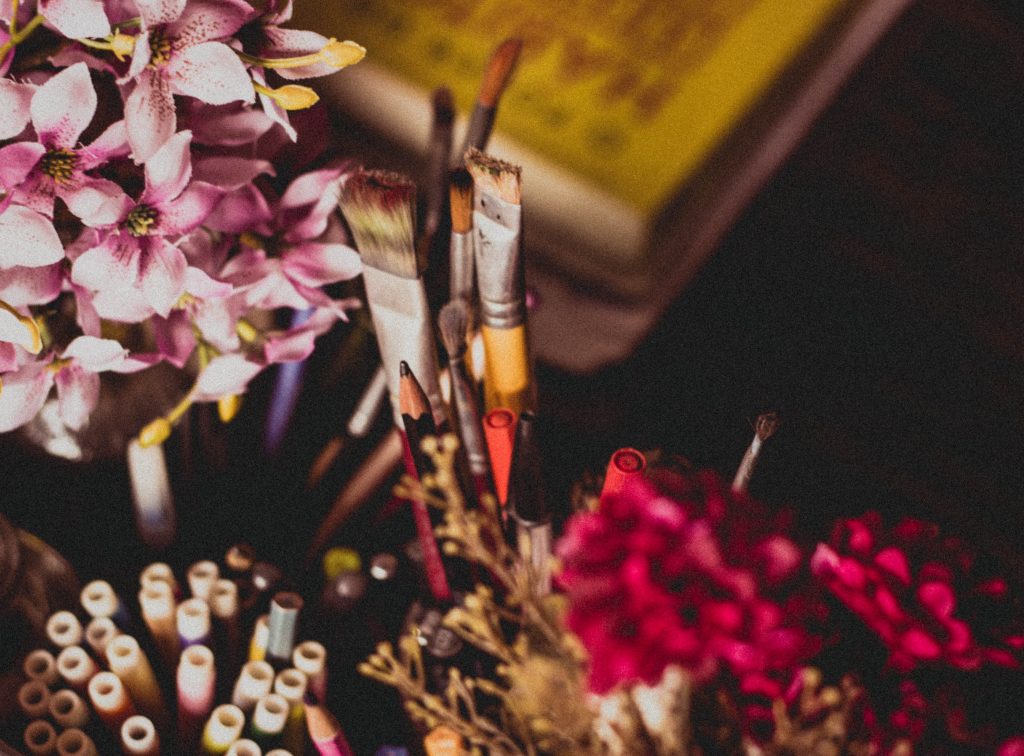 Ready to go from dreaming to doing?
The Creative Doer online course is a practical and profound journey towards making your creative dreams happen, without the pushing and overwhelm.
We focus on your life and your dream. What's the next right step for you? Take it.
But we also look beyond and beneath the doing to get clear on what's keeping you stuck. No time, too exhausted, busy pleasing others, afraid of failure, lack of clarity, stuck in overwhelm?
We'll find new, smoother ways to move forward, and you'll get the support and resources you need to go from dreaming to doing.
Because I know you're hungry to create, to contribute, to get into the arena. Not just talk and dream and plan, but DO.
Well, you can. You can learn to show up for yourself and your work, consistently, like it matters. You can make it happen.
I've created this course and community to show you how, and I am ridiculously passionate about this work.
The tools and teachings I share in The Creative Doer has transformed my life and the lives of hundreds of my students. Hopefully they will transform yours too!
"I am sitting at my desk, early in the morning, writing. And it is thanks to you. I was stuck, but now I'm not. The Creative Doer is a powerful course – it is clear, beautiful, and the content is packed with profound wisdom."
Maria Mankler. Sweden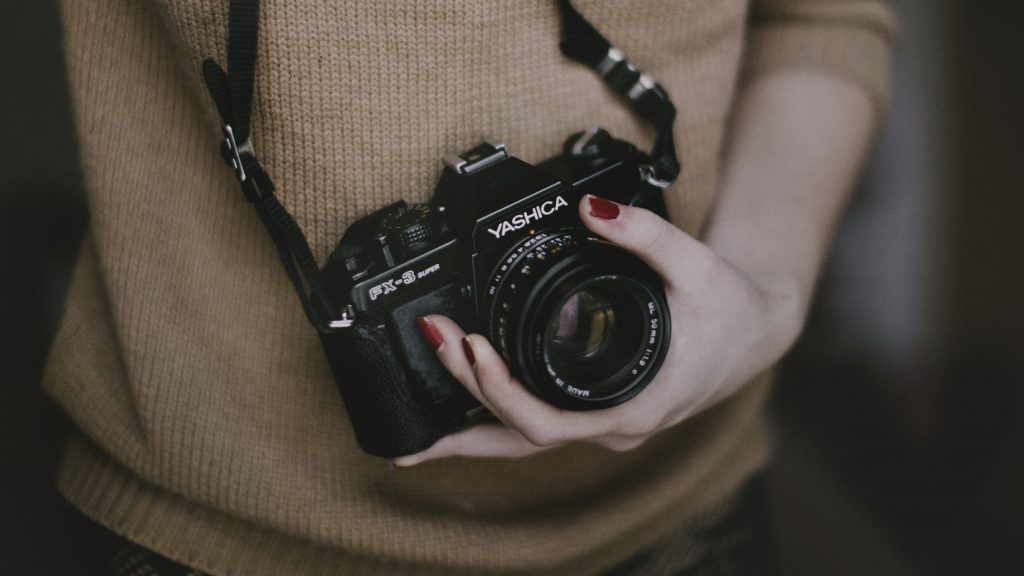 I know you're busy, love. There's the job and the kids and the friends and dinner needs to be made and you should probably work out more and the house doesn't exactly clean itself. And then there's Instagram. And Netflix. And with everything that's going on in the world righ now …
I know. And you try to shoehorn your dream in, somewhere. You end up creating in stolen moments only, in the words of Clarissa Pinkola Estes – if you manage to create at all!
But it doesn't have to be like that. It doesn't have to be about striving and struggling, alone and without proper support. We miss out on so much of the magic this way.
There's a creative power we can tap into when we're resourced and filled to the brim, when we align with our work, inside and out.
You know this, right? You know how it feels when your creative juices are flowing and you're doing the work you're meant to do. That joy. That deep sense of purpose, of being truly, fully yourself. You light up the world that way.
All that from committing to your heart's work? Yes. All that and more. You know this. That's what the longing is all about.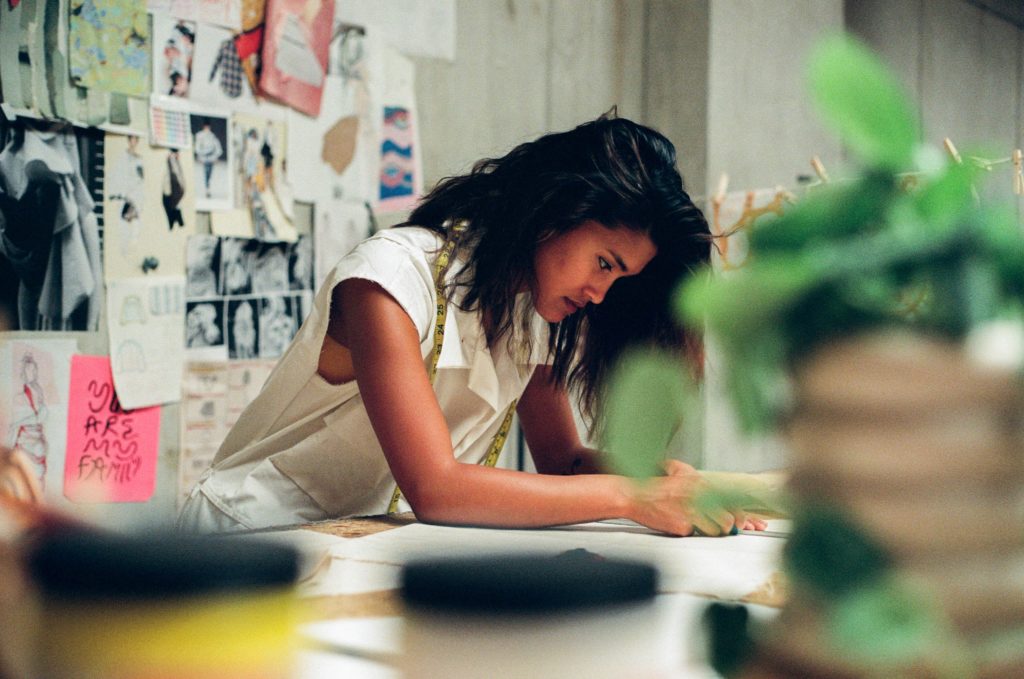 In The Creative Doer course, you'll learn to tend to your real needs in order to create real change. No more giving yourself what you need after you've reached the goal (because that shit doesn't work). No, you'll learn to fuel up first, fuel up to the brim, to the point of overflow – and watch that overflow spill into your work in a way that is as effortless as it is powerful.
We'll devote ourselves to the art of overflowing.
And then we'll see what happens when we create from that space. (Hint: some pretty radical stuff.)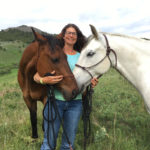 "Creative Doer has been one of the best things I've ever taken part in. This incredible space is a raging river for growth. My writing has taken off. My blog is coming back to life. I entered an essay in a small writing contest and received an honorable mention. It has also bled into my whole life.
The forum has become an important part of my life - something I never thought would happen with an online space. I love the sisterhood in there and that we are from all over the world and all walks of life. The Creative Doer has changed my life in so many ways."
Jenny Haldeman, USA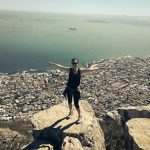 "This course has been nothing short of life changing for me. Instead of the familiar feeling of dread when starting something new (or even thinking about starting something new), I actually feel excited, prepared and fully engaged. I have never ever had a plan quite like this one and it feels so good!
The action of breaking my project up into bite sized pieces has allowed me to see where I am going for the very first time in my life. I have a map to help guide me to my destination. I feel as though I can achieve what I have set out for myself. It is a revelation!"
Candi Giacchetti, UK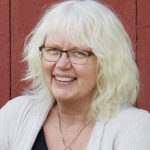 "The Creative Doer is without a doubt the best creative education I've ever had - about getting things done, about being gentle with myself, about money, deadlines and fears. And most importantly, about what I really want to create. The list goes on and on!"
Titti Backström, Sweden
The Creative Doer framework rests on three pillars
This is about mindset work, but not the positive-thinking-kind. It's about untangling ourselves from the patriachal conditioning that is keeping us small. It's about cultivating courage and claiming our place. Ultimately, it's about coming from a place of power in our work. Aligned, embodied power.
We need practical know-how in order to make any dream happen – how to get from A to B smoothly and sustainably. This involves getting real about the resources you have available, learning how to make doable plans and create supportive habits, as well as learning to fuel your work properly.
We create our best work when we are supported, inside and out. Support is about community, finding likeminded people to share the journey with, it's about learning how to step into co-creation with your work so that it can add its power to yours, and it's about allowing yourself to receive the good that is available to you.
Former Creative Doer students have written books, launched blogs, podcasts and businesses, made their first sales on Etsy, changed careers, changed lives, found their way back to art making after burnout, reclaimed the joy that was lost and so much more.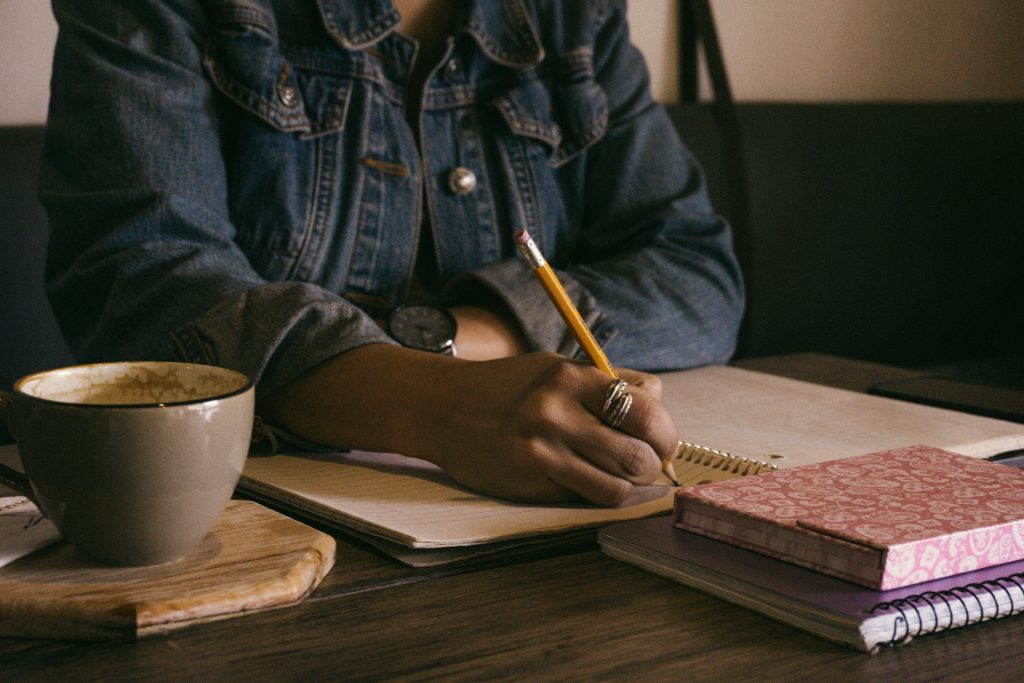 What kind of program is this?
It's part online course, part creative incubator. Prepare for change.
"For me, The Creative Doer is not just an 8 week course. The lessons are a huge SPARKLE, but more than that it is a community and a MOVEMENT, where you look for a sustainable way to live your creative life."
Marianne Oude Nijhuis, Netherlands
"The Creative Doer is not really "just another course" it is a new way of thinking and being as creative women. I feel as though we in this community are a wave of women who can change the world."
Suzanne Gibbs, USA
How does it work?
When you join, you can immediately log in to our beautiful online classroom and access the lessons from wherever you are.
You work through the lessons at your own pace. You might need 8 weeks or 8 months to finish, both are ok. You've got life time access to the course.
When you join the course, you also get access to The Creative Doer Community, where creative women from all over the world gather to connect, support each other and share resources. I'll be there together with my facilitators to answer questions and support you!
You'll learn how to:
Connect with your true dream and map out a sustainable, doable path from here to there.
Claim the time and space you need to make it happen.
Tap the power of co-creating with your dream instead of trying to push and force things into being.
Learn how to fuel yourself and your work in a way that will help you stay out of overwhelm and burnout.
See through the patriarchal conditioning that is weighing you down and holding you back.
Rely on structure and the cultivation of flow instead of willpower.
Grow and share your work in a more honest and easeful way.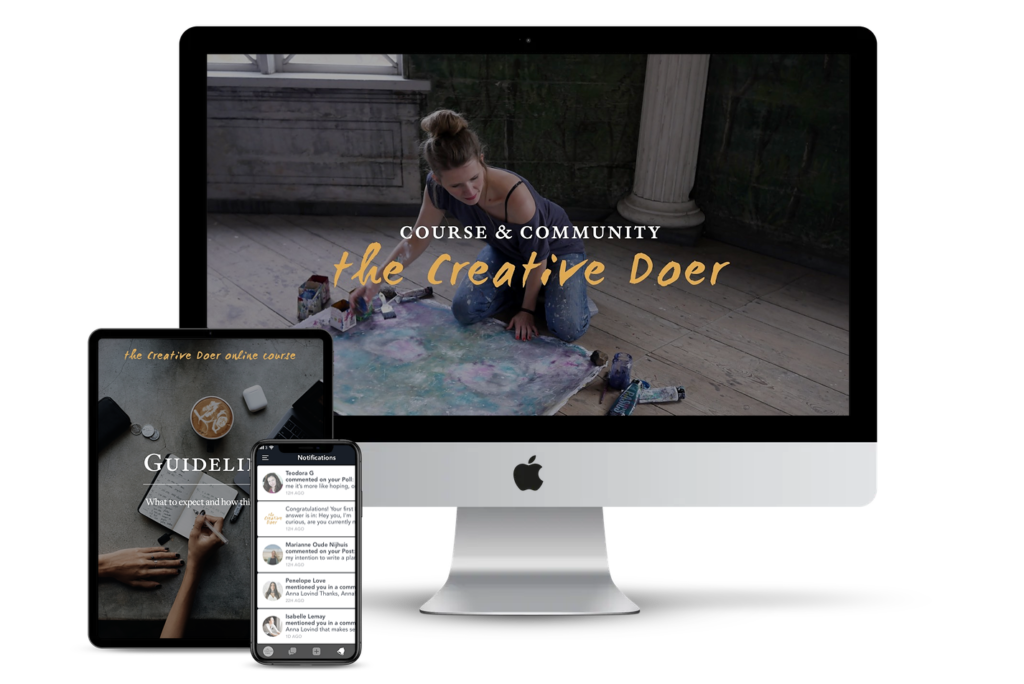 Join 750+ students and go from dreaming to doing this year.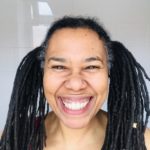 "The lessons speak directly to my soul, what's that about? Every paragraph is sheer gold, speaking my truth. I read one paragraph and then stopped to grab a quote and do an Instagram post. Read another paragraph and stopped and shared an insight on my blog. Another paragraph and I sent out an email to offer my services to write where I've wanted to but been too afraid to make a move before. It is inspiring, validating, and it's supporting me and I ain't even finished it yet!"
Sheree Mack, UK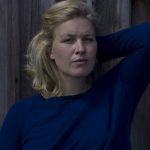 "The Creative Doer has changed me, fundamentally. It has helped me stay the course not just in my creative work but in my whole life. I've learned to think long-term about my work, to handle fear and to acknowledge all the things I do instead of judging or criticizing myself.
Anna walks her talk and that makes me trust her as a teacher. The Creative Doer is an absolutely indispensible tool for every creative soul. If you have a dream, if you feel like yet another year has passed and you haven't made it happen, take this course!"
Anna Winberg Sääf, Sweden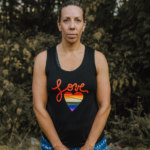 "Anna Lovind's work on creativity has absolutely changed how I approach my creative work. Her feminist perspective on the outdated model of the creative process opened up so much space for me. Her personal engagement within the community and her sharp editorial wisdom has 100% made my writing so much better and I don't think I would have been nearly as successful without it. I feel like a backlog of years of creativity has been unleashed simply in the lessons learned here. I can't recommend The Creative Doer and this teacher enough! "
Lori Race, Canada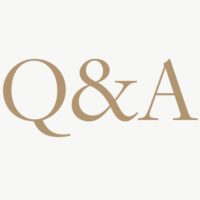 Who is it for?
Anyone who has the experience of trying to grow and flourish and spread your wings in a patriachal world, and who is hungry for a different way of doing things. You need a longing in your heart and a willingness to do the work, that's all. Wherever you are in the process, you'll find support, aha-moments, useful tools and reliable nourishment here.
Who is it NOT for?
Well, if you're looking for quick fixes, The Creative Doer won't be right for you. We're in it for the long game. Probably not if you think using the word "energy" is too airy-fairy either. Oh, and one more thing – I strive to run an inclusive business in alignment with intersectional feminist values, if that's not something you can get behind this is not the place for you.
How does IT All work?
When you sign up, you get access to The Creative Doer course platform. There you'll get:
The 8 lessons of The Creative Doer course
Bonus classes from relevant and brilliant guest teachers
Monthly Live Calls, where we gather to explore the themes of the course + you can ask questions. Show up live or listen to the recording afterwards, whatever suits you best
A rich archive of previous Q&A calls to learn from
You also get access to The Creative Doer community, where you'll find:
The community forum. Have a question or want quick feedback? We're there to asnwer and support.
Companionship. Connect with other creative women who are on the same path as you
Weekly check-ins, where we share our goals for the week and learn to plan sustainably and focus on the right thing
Is the course self-paced or Do we follow a schedule?
It's self-paced. You move through the lessons at your own pace, with plenty of support along the way. You do one lesson a week or one per month – I encourage you to commit to a pace that works for you. You have lifetime access to the course platform so you can keep working for as long as you need to.
How much time will I need to spend on the course work?
The purpose is to get you going on YOUR OWN creative work, so I've purposely kept the course work slim and simple. Expect to spend about two hours on each lesson. As for the other activities and resources in the community – you know best how much time and energy you have available. Make use of what is helpful for you and leave the rest.
Is the community on Facebook?
Nope. Facebook is built to distract you, I want you FOCUSED and ready to get some work done. Our community is hosted on a beautiful and userfriendly platform called Mighty Networks, complete with it's own app so that you can stay engaged whatever way suits you.
I'm not great with computers, will I manage the tech stuff?
You need to remember your log in info, create a profile in our community and download files to your computer. That's about as difficult as it will get here. We provide you with instructions whenever needed and should you still run into trouble, we're here to help.
What's the difference between the Creative Doer book and the course?
The course content is based on the teachings in my book, The Creative Doer. The difference is that in the book you get the what, in the course you get the how – you get the process and the tools. You get to go deep with these teachings and learn how to live them. When you've gone through the course, they won't be theoretic concepts anymore but your new way of life.
You also get the community and the ongoing support, and that's priceless.
What if I don't want to participate in LIVE calls or interact with other students?
You can absolutely join and go through the course content all on your own, if you prefer that. And instead of attending live calls, you can listen to the recordings. You'll learn plenty this way as well.
I do encourage all my students to take part in the community. First of all, that's how you'll get the most bang for your buck. More importantly though, I know the value of creative women coming together to support each other to do our work in the world, that's why I created this community and I want to share this powerful resource with you. But ultimately, trust yourself on this.
How long do I have access to the course?
You have lifetime access. And should it for some reason be discontinued you can download and keep all the course content forever.
Do you have a guarantee or a refund policy, in case I don't like the lessons?
No, this is a non-refundable investment in your creative work. I really think you're going to love these lessons, and that these practices and assignments will revitalize your relationship to your creative work. When you make this purchase, you are promising to explore and practice. You'll be paying for it the way you would pay for a degree, an all-inclusive retreat, a counselling session, an art show, or a ticket on an overnight train. I know that online sales expectations are distinctly pro-refund, and I've tried every possible version of it. But I've realized I don't feel right about offering a money back guarantee on a creative experience.
How is tHe creative Doer different from other creativity courses out there?
Well, according to many of my students, "there's nothing like it out there". But here's what I find sets The Creative Doer apart: The strong focus on doing both the inside and the outside work. I won't just teach you some tips and tricks and then send you on your way, because I know that unless you deal with what drives your striving or what keeps you stuck, pretty quickly you'll find yourself striving and stuck again.
Also, I have an intersectional feminist approach to this work. We live in a world where our gender, the colour of our skin, our socio-economic status and so on will affect our access to resources and our safety when we step into our work and share it in the world. Anyone who says otherwise is leaving out an important part of the story. Knowledge is power. We'll use that power to support each other and to grow beyond whatever limitations are keeping us back.
Got more questions?
Click on the little icon in the bottom right corner of this page that says "Help", or email me at [email protected] I'll be delighted to hear from you, and I'll help you sort out whether The Creative Doer is a good fit for you or not. (I don't want to waste your time or money.)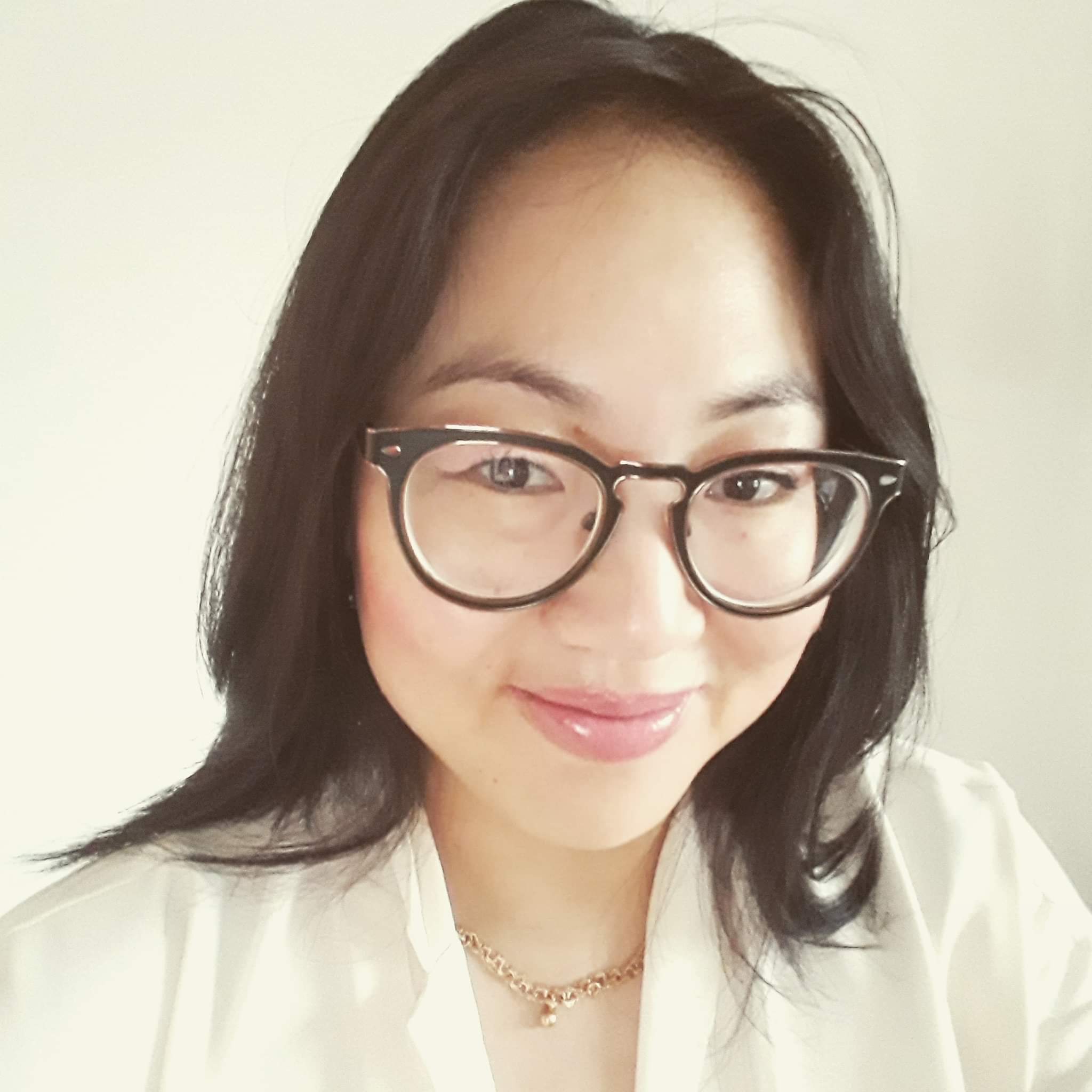 "I have searched a lifetime for a safe place like The Creative Doer community. I had left all my dreams and ambitions behind thinking it was not in my cards to create a sustainable writing life. But now, I have finally found a creative place that I can call home.
There are no words in the whole world to express my gratitude for what you have created. I think the tears running down my cheeks this very moment are saying it all. I am slowly letting go of the idea that there's something wrong with me and my way of thinking and being. Turns out there was nothing wrong with me. I was just with the wrong crowd.
I will honour your work by becoming the very best writer I can possibly be. Thanks to you, I have the tools now. Thank you from the bottom of my heart!"
Viveka Jae Ok Hansson, Sweden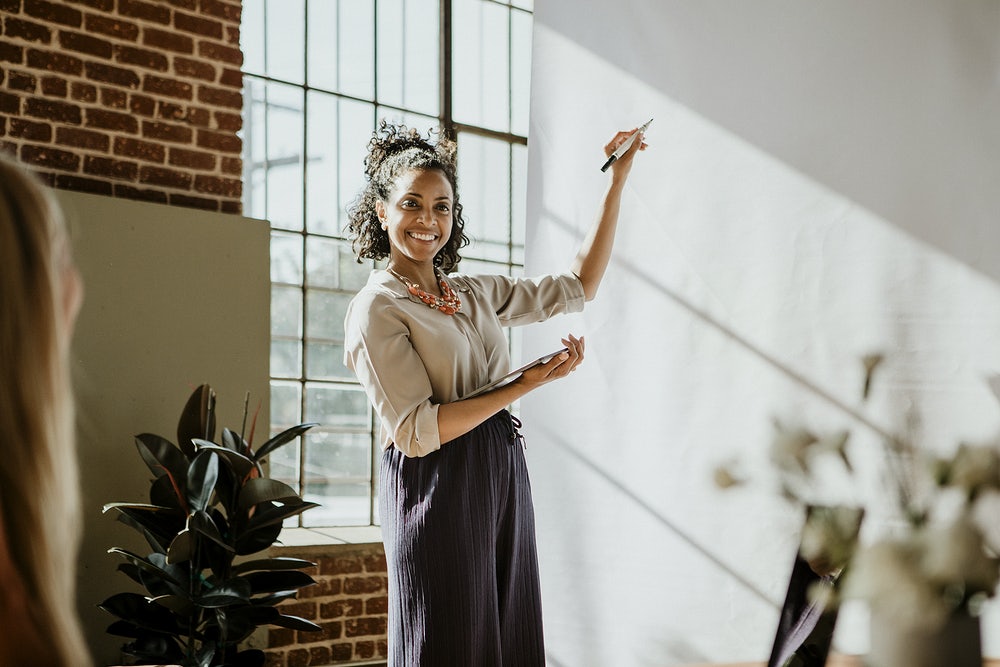 When?
Enrollment is now open!
Where?
Wherever you are. This is an online course and you go through the lessons from the safety and comfort of your home.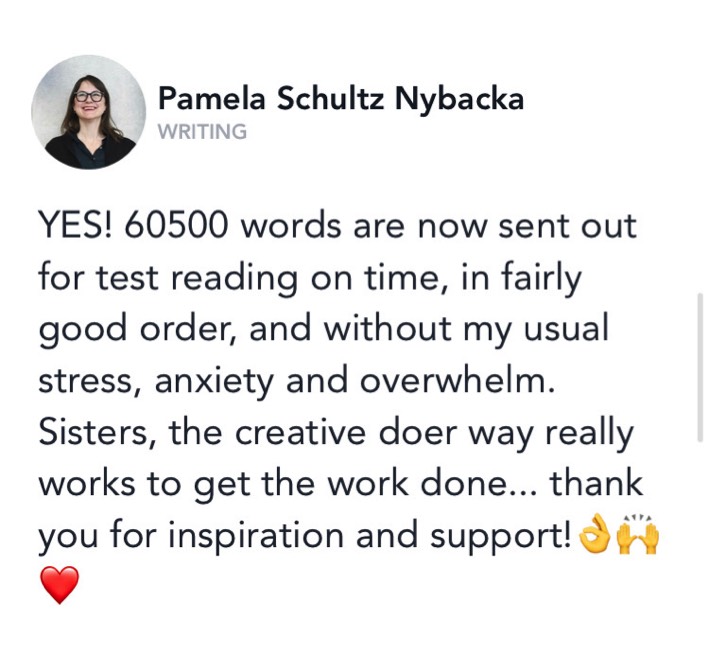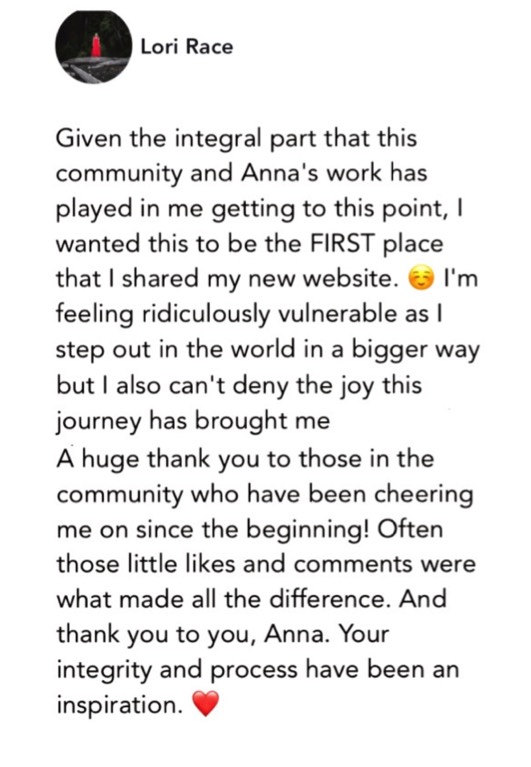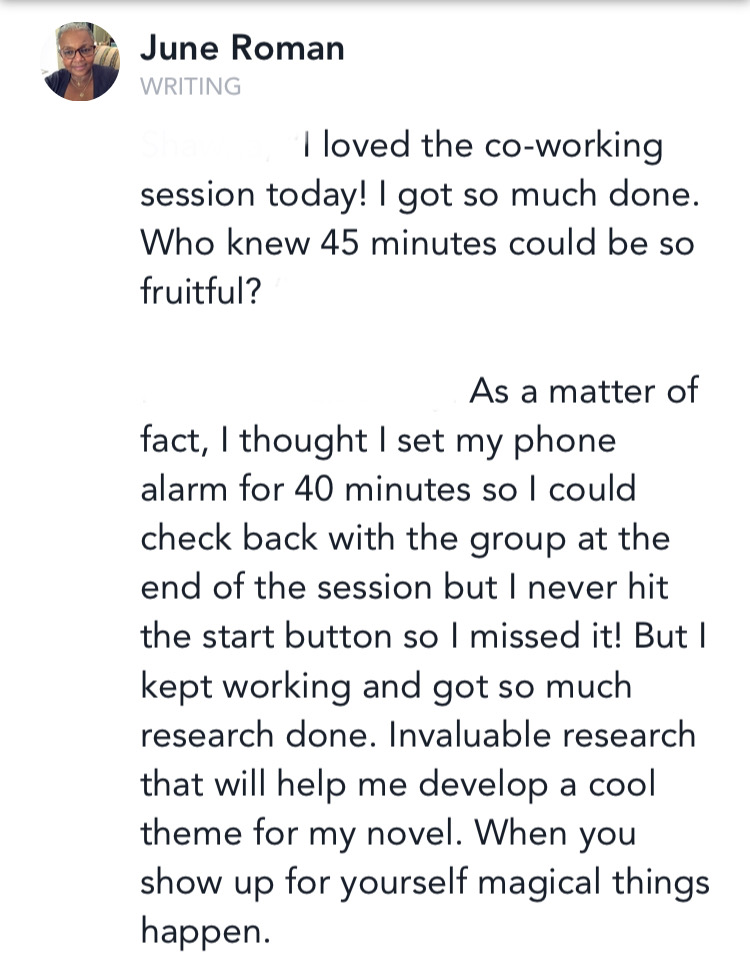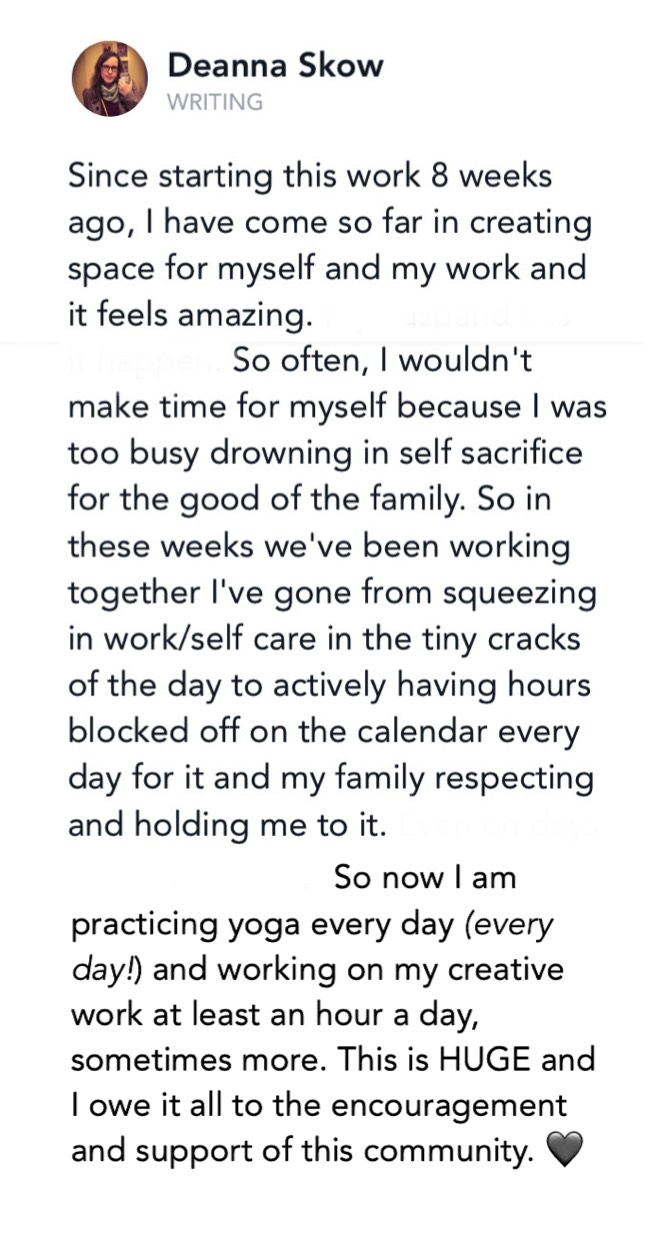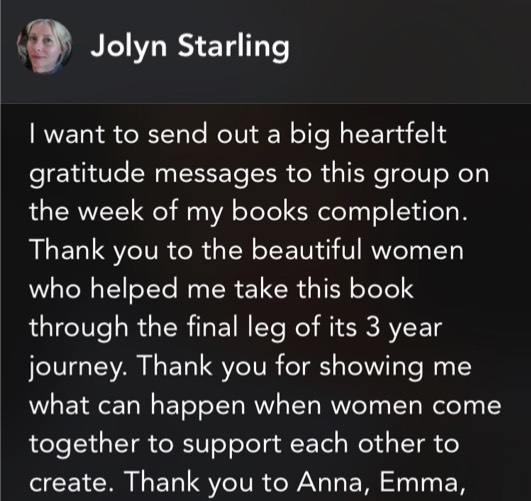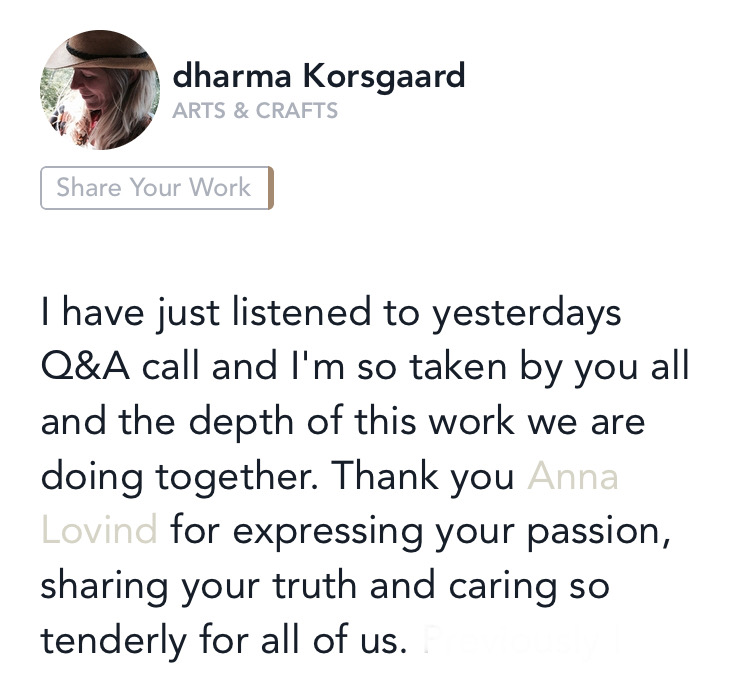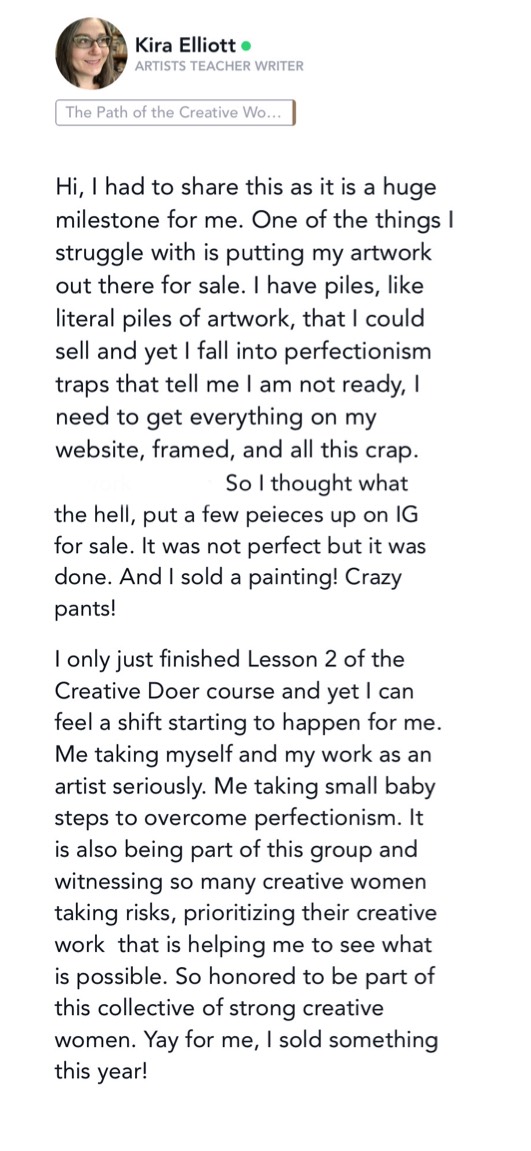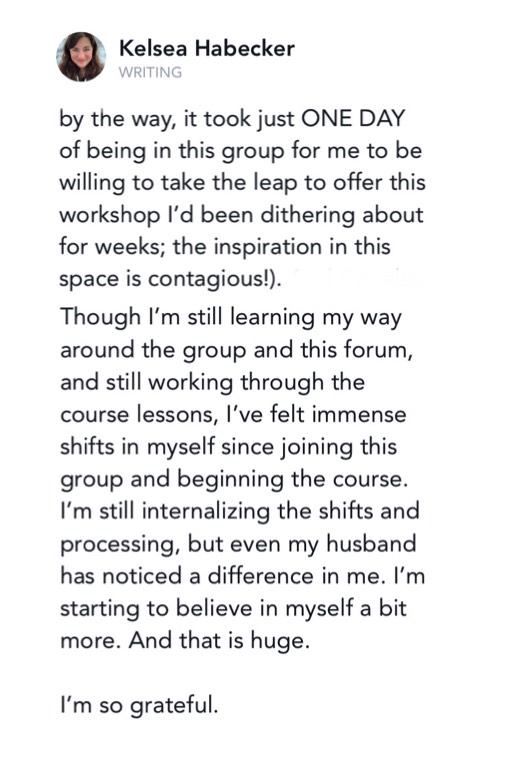 The  cost includes:
The 8 lessons of The Creative Doer course, including workbooks, videos, guided meditations and exercises for you to use over and over again
Monthly Live Calls with Anna

Bonus classes on relevant topics from brilliant guest teachers.
Access to archive of earlier bonus classes and Q&A calls (it's a goldmine, Creative Doer students ask the best questions!)
You also get:
Access to The Creative Doer Community, a global network of Creative Doers – where you can connect with each other, my facilitators and me, find support and ask any and all questions along the way
Cancellation policy
This purchase is a non-refundable investment in your creative work. When you make a purchase from us, you are promising to explore and practice.
The very nature of creative experiences is that they are often the same ones that we resist. That's why we don't believe in guaranteeing certain outcomes or to ask you to return it if you are unhappy with your creative work.
By purchasing this program, you are choosing to make your creative work a priority. Powerful choice! Your creative self will thank you.
Before you purchase The Creative Doer we encourage you to explore the website — read Anna's newsletters, follow her on Instagram, take a look at her testimonials. Get to know Anna and her methods first. Find out if her teachings on the creative life make sense to you before you invest.
If you need help figuring out if it's right for you before you hit join, send me an email at [email protected] or use the chat box in the bottom corner of this page and I'll be happy to sort it out with you.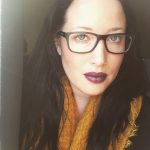 "I can't begin to express how grateful I am for this amazing, life-changing course! It is simple to follow and the content is life-altering. Anna speaks to the heart and asks "What do you want most?" and then walks us through whatever might stand in the way … fear, overwhelm, deep-rooted limiting beliefs.
I am making my creative work a priority and I am learning that everything else will fall into a natural, organic place. I've had huge unexpected breakthroughs about fear, and I'm learning that anything that is good for ME & my energy is good for my business ? I feel both calmed and empowered as I continue forward doing my heart's work."
Hillary Rain, usa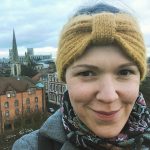 "When I joined The Creative Doer, I had very little time. My days revolved around my kids' schedules and taking care of family, I was often stressed and never found the time to just stop and do something for myself. I had no energy for creative work.
But then, a couple of lessons in, I started to say no. I said no to everything, to family visiting, to activities. I started doing yoga! And now I keep a schedule for my creative work on the wall, next to our family planner. I have managed to make and follow a realistic plan and I have energy to do my work!
I know I will revisit the lessons over and over, to learn more, listen deeper, get to know myself better. I have started living the lessons; live an active, creative life."
Louise Tränk, sweden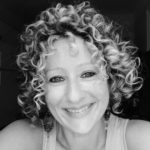 "I'm here to testify to the power of this course and community! I'm getting SO much out of it. It's giving me much needed structure and I credit you and your work with all the recent progress I've made with my writing these past weeks. It's so great. SO great!"
Skylar Liberty Rose, USA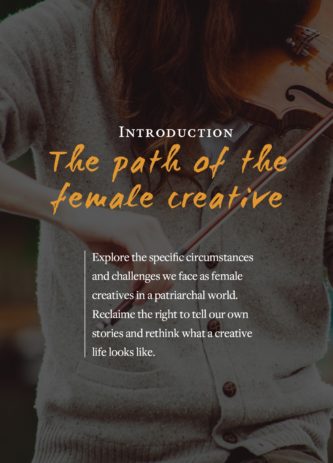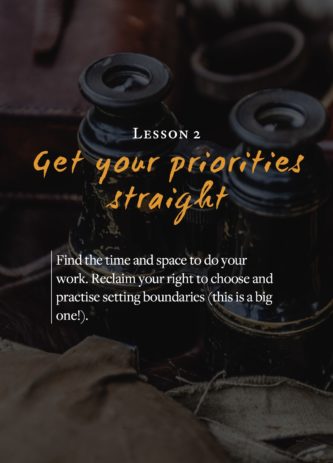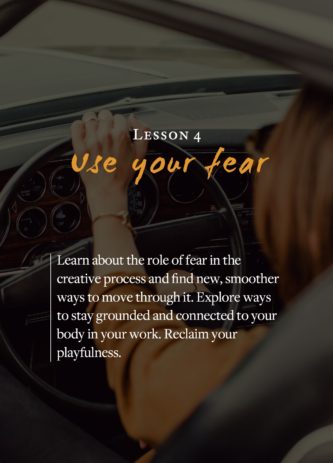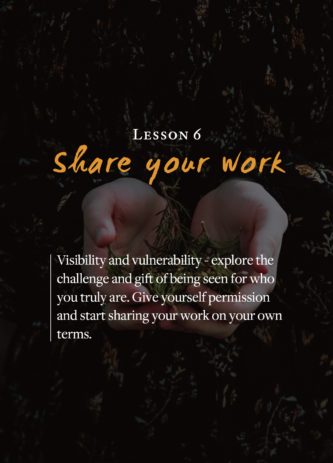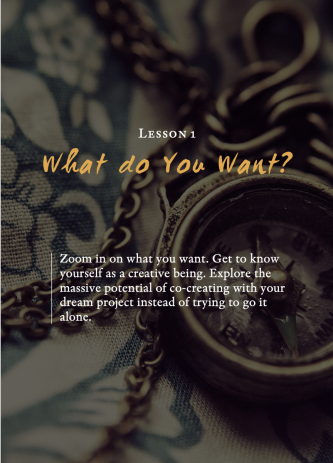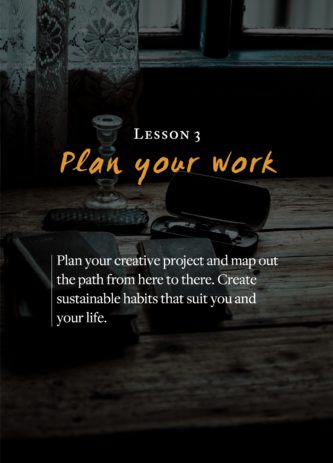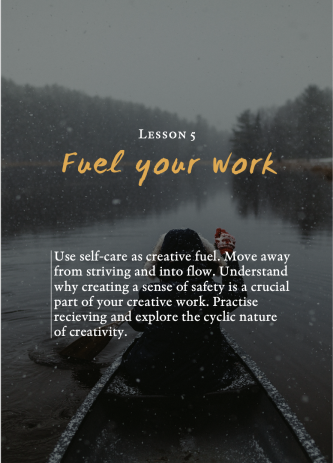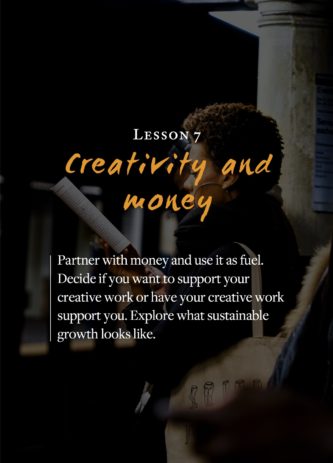 "I cannot tell you how happy I am that I decided to participate in The Creative Doer. I love how it guided me through my jumble of half-formed ideas to create a coherent and workable plan. I'm suddenly experiencing all this movement in my creative life. It's magical!"
Grace van Akins, UK
"This course is so unique, with such an unusual level of depth available within it. Truly, there is nothing like it out there. I have moved through the course at a glacial pace not to reach the end too quickly! I have gained so much clarity. My creative work no longer feels like something I must conquer; now it feels like a companion, and a piece of life that I am in contact with: nourishing it and being nourished by it."
Marie Pierre Hasne, USA
"The Creative Doer is so much more than I could have hoped for! I love how specific all the content is and how you manage to pinpoint all of our issues. As the years has gone by I feel that I have been suffocating my soul. My rational mind has talked me out of so many enjoyable (time wasting) pleasures like painting, drawing, photograpy, writing … time wasting because nothing practical was to come out of it. (I thought!). Now, as I go through the lessons, I can slowly start walking my own path again. Thanks to this course, my creative self will never again have to lose the battle with my rational mind."
Aneta sandhu, UK
"I hope it feels good to know you have changed the world with your little course."
Sadie Rose Casey, Usa
"Since I joined The Creative Doer, many things have changed for me – I've been able to negotiate more space to dedicate to my work, and I've made my first few sales through my Etsy shop! I've gained more confidence in my ability to follow my heart's work despite objections and expectations. I still struggle with fear and frustration sometimes, but I'm learning the tools to quiet them and re-connect with myself. I recommend this course as a calm space to grow without the pressure and noise of more traditional 'business' or 'find your purpose' courses. I know it will serve as a solid foundation for my path ahead."
Jennifer Cockcroft, UK
"Oh my, how grateful I am for The Creative Doer! I have been a photographer for a long time and it is going well but it has never felt really good, you know. Like hell yeah! I wanted to pour more soul in it, but there was this vague mist around the how and why etc. The lessons gave me clarity about what it is that I want my work to be. And I love it! This is my dream job. This is my vision. I finally have it!
The course helped me so much that I completely went for it – and today I launched my new website! Haven't even gotten around to the last lesson yet, because all of a sudden work started streaming in and I am busier than ever – I even hired an assistant for this wedding-season!"
Mariet mons, netherlands
I'm Anna Lovind. Writer, mother, creativity teacher and community creator.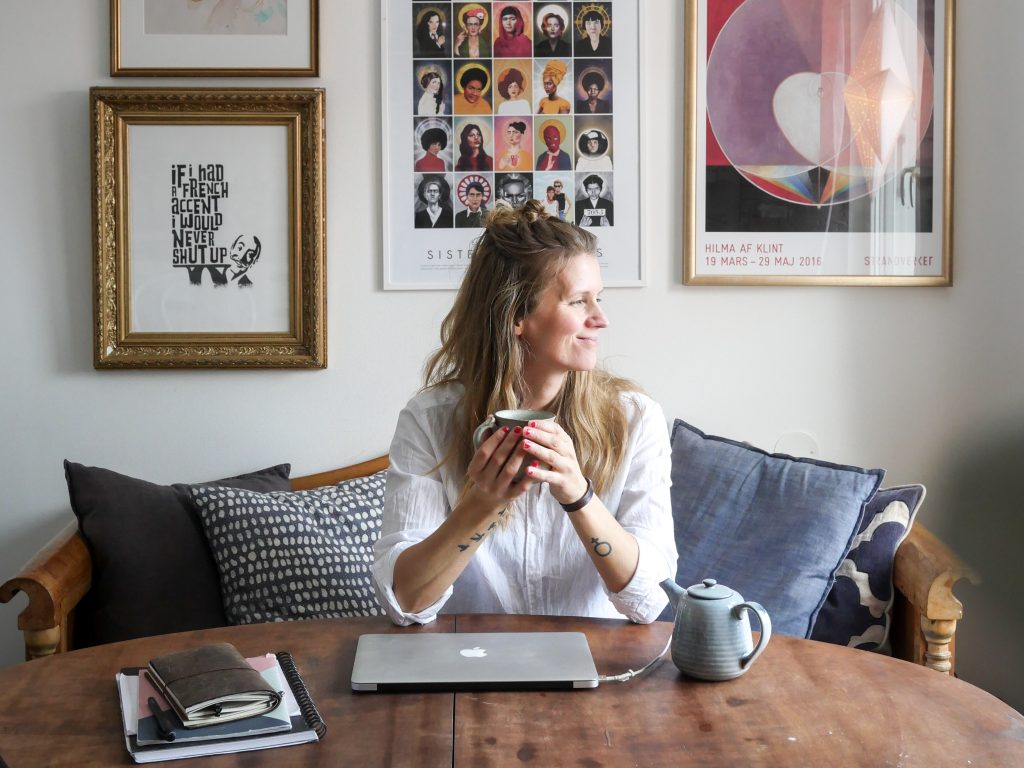 I've helped thousands of creatives to get going and keep going on their dream projects, whether it is writing a book or starting their own business. I'm also a mother of two, a neurodivergent introvert, and a fierce believer in the power of creative women supporting each other to make shit happen. The Creative Doer is truly my heart's work.
Want to know the most important things I've learned from two decades of creative work?
We can't have it all, so let's just drop that stressful idea once and for all. But we can have what's most important to us.
Motherhood and creative work is absolutely compatible, reagardless of what we've been told.
Creative sisterhood is lifechanging. We create our best work when we're deeply and wholly supported.
The level of creative fulfilment and success we enjoy stands in direct proportion to how sustainable our life and work is.
Fuelling ourselves and our work properly will change everything. Our rest and our joy is the key and the revolution.
Make no mistake, discipline is needed here too. Moving your dream from idea into shape and form takes committed work. But it's your true work, your heart's work, and when done sustainably it will energize you rather than drain you. Realizing that changed everything for me.
From there I've created a life in which my creative expression has top priority. I've built a beautiful business doing work I love. I write, I create, I mentor other creatives, and I make a living doing it.
And in the midst of it all, there are children to raise, homes to take care of, health issues, financial challenges, love and loss and the whole glorious mess of our everyday lives.
Let's face it, life is not neat and tidy. We all have our stories and challenges, and building a sustainable, successful creative life means taking all of it into account and finding the kindest, smoothest way forward.
I'm thrilled to invite you to take this journey with me.
Cancellation policy
This purchase is a non-refundable investment in your creative work. When you make a purchase from us, you are promising to explore and practice.
The very nature of creative experiences is that they are often the same ones that we resist. That's why we don't believe in guaranteeing certain outcomes or to ask you to return it if you are unhappy with your creative work.
By purchasing this program, you are choosing to make your creative work a priority. Powerful choice! Your creative self will thank you.
Before you purchase The Creative Doer we encourage you to explore the website — read Anna's newsletters, follow her on Instagram, take a look at her testimonials. Get to know Anna and her methods first. Find out if her teachings on the creative life make sense to you before you invest.
If you need help figuring out if it's right for you before you hit join, send me an email at [email protected] or use the chat box in the bottom corner of this page and I'll be happy to sort it out with you.
"This is exactly what I was yearning for and it's been a huge help as I'm putting my dream into practice. I truly can't even find the words to convey how much The Creative Doer has nurtured my spirit and my creative life. Everything from committing to radical self-care, to connecting with other women who believe in me and my work, to modifying my work schedule and family's demands to cultivate my own creative time.
I used to perceive my creative work as something on the side, like I dabbled in a bunch of creative things but never finished anything. Now I understand that this work is long term and worthwhile. Thanks to the wisdom and tools you've shared, I'm now much better equipped to walk my own path."
Stacey hare hodgins, canada
"What a journey it has been! A journey home to myself. I never saw myself as a creative before, but now I know I have such a longing to create! Thank you so much for opening the door for me. You've given me a permission slip and a whole new world has opened up."
Tina Dauzat DeSoto, USA
"I allow myself time for creativity now. I was under the impression that I didn't have time, but I found out that I do. It's been a real eye-opener. I've been doing so many things I don't really want, and this course made me see it is ok to let them go. I make up less excuses and just do the work.
And your approach to fear has been pretty life changing! It is a lot gentler than the things I hear other people say about fear, and your insights on this topic has been incredibly helpful for my creative process but also for my daily life. Your humanity shines through all the course material and it allows me to accept myself as "only" (or luckily) human too. Thank you!"
Kim Roelofs, Netherlands